Welcome to RED RIVER LIMITED! We offer a wide variety of boxes manufactured from high quality materials at affordable prices. We have boxes for commercial or personal needs, from storage and shipping boxes, to those that display your products or personal items. All of our boxes are constructed to keep your items safe and secure. We pride ourselves in producing excellent quality boxes and in giving consistent, reliable, on time deliveries. Our customers can expect the same high level of service and quality every time they purchase from us.
Our printed boxes are available in different colors, fonts, sizes and in single or double wall design. Our team of professionals is readily available to discuss and assist you in designing and manufacturing boxes for your needs.
We also have a large quantity of stock boxes of varying sizes for immediate delivery.
You can be confident that our dedicated team of packaging experts is committed to providing sales and support that always puts you, the customer, first.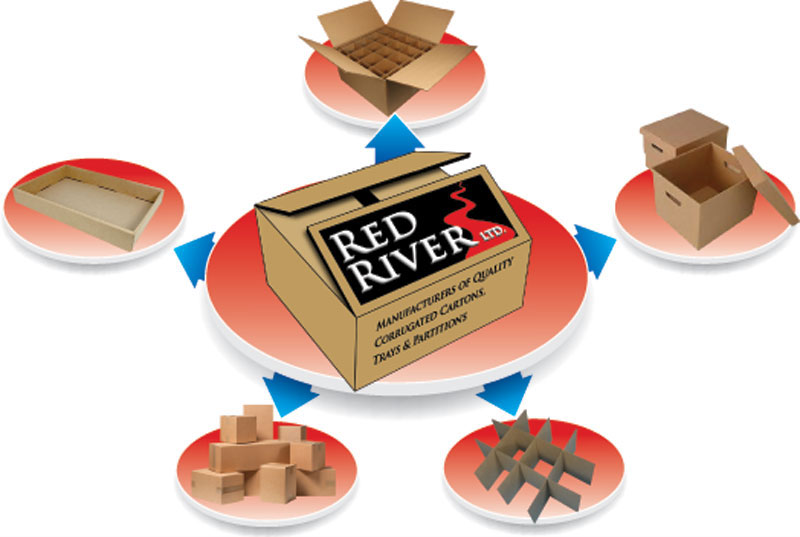 Faqs
>>What are the different types of packaging products you supply?
► Corrugated cartons, trays and partitions for all kinds of industries.
► Carton sealing tape and tape dispensers.
► Corner boards; plastic strapping; strapping seals; strapping seal crimpers and carton closing staples.
► Stretch wrap films and film dispensers for palletizing and other uses.
► We can also source any other packaging needs you may have.
>>Do you produce both kraft (brown) and white cartons?
► Yes.
>>What are your printing capabilities?
► We can print up to five colours.
>>What is your lead time for fulfilling an order?
► Our normal lead time is 2-3 weeks; however we have standard stock cartons in inventory that may be able to fulfill your immediate needs. In addition, we will make every effort to accommodate your emergencies.
>>Do you deliver?
► Delivery is available subject to certain conditions.
Read More